Do Car Covers Protect Against Hail?
It is never a surprise that Mother Nature can be very damaging to your property including your car. The harsh months of winter can have detrimental effects on your vehicle, particularly as far as hail is concerned. This is why many people cannot help but ask one question – do car covers protect against hail?
Hail is basically the circular pieces of solid ice that falls from the sky. When thunderstorms are intense, these can come with destructive hail and vicious winds that could range from really small ones to pieces with a diameter of up to 4 inches. A quick trivia: the biggest hailstone that was recorded in the history of the United States had a diameter of 8 inches.
As expected, the best and easiest way to prevent your car from suffering from hail damage is by parking it inside. However, it is not always possible for everyone. This is why many car owners are left with no choice but to look for ways to ensure that their vehicles are protected. Some common options include hail car covers that you can buy at online shop Withcar and inflatable hail systems.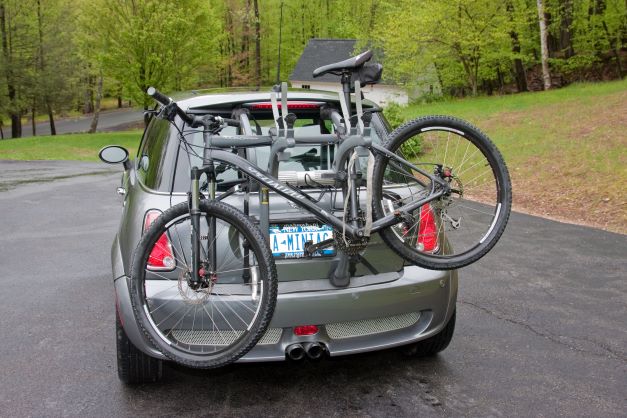 Read also next article: How to take your bike with you at all times
Think of your car's bike rack as a mobile storage shed, where you can transport all manner of gear that wouldn't otherwise fit inside your vehicle. Roof racks can be the best way to haul outdoor gear and large DIY materials
You need to keep in mind that even though car covers might not be as protective and useful as your good old carport, these are still better than not taking any measures at all.
How Expensive Can Hail Damages Get?
No one wants to pay for the damages that hail caused on their car. When there are more damages, the fix will also cost you more. But, the sad thing here is that even the smallest of damages can cause a significant dent in your pocket. It was even said that insurance companies shelled out billions of dollars in hail damage repair for the past few years. Of course, this doesn't include those who don't have insurance and those who opted to foot the bill themselves without dealing with insurance claims.
There are people who try fixing their cars on their own after a hail storm. However, this is not always effective and there are even instances when it only does more harm than good. There are people who try using the changes in temperature caused by hair dryers or dry ice to pop out dents on their car. But, it is important to remember that these will work only on small dents with minimal damage, assuming that these even work in the first place.
Auto supply shops often sell DIY hail damage kits for a hundred dollars but using these can be very time consuming, not to mention that they might not have any effects, especially if there are dozens of dents on your car. Having said, it is often a wise decision to seek the help of an expert, which can be a bit expensive.
Generally speaking, the average price of repairing hail damage on vehicles is approximately $2,500. Hailstorms could leave several spots of damage to a car, and each of these is not cheap to fix. Repairing smaller dents can cost you about $40 and this price can increase significantly for the larger dents. The cost can also become more extreme if your windows or windshield was shattered by hail. Hail can also cause damages to your headlights and tail lights that might not seem that significant but could still increase the final repair price a bit. If there is a need to replace the roof or body panels of your car, expect for a heftier bill that could even cost you more than the actual worth of your car.
At the end of the day, if hail caused damages on your car, the overall cost you will pay for is dependent on the number of dents, the size of these dents, if there is a need to repaint the dented areas, and if the storm also damaged the windshield, windows, lights, mirrors, and other parts. This only goes to say that if the hail storm was a really bad one, it might cost you more than the available options you have for protecting your car.
What Type of Cover Can Protect Your Car from Hail?
If you often park your car outdoors, an inflatable protection system is one of the effective solutions you can consider. This is a unique type of cover because you just need to inflate it every time there is an approaching hailstorm. To do this, you just need to press the button on its remote control and your car will now have sufficient protection from hailstones. Sadly, this kind of solution tends to be a bit expensive, with most people finding it beyond the price range they can afford.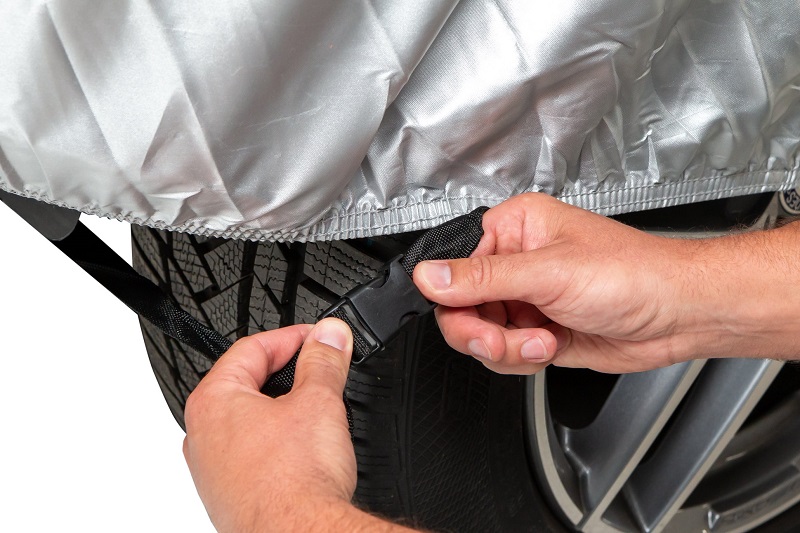 In case you are concerned about the price, you might want to invest in a weatherproof, dust-proof, and durable car cover made of top of the line polyester fabric. You only need to find thickest outdoor car cover to protect car body available in the market.
It is ideal to choose something with a minimum of 5 layers of material to lessen light damages brought about by hail. If an extremely heavy hailstorm is coming your way, you might want to further reinforce your cover with exercise mats, blankets or floor mats to lessen the possible damage. See to it that the windows of your car are also covered to avoid cracking. Use duct tape to secure all the layers of the protective materials so that they will stay in place throughout the storm.
There are also manufacturers who recommend the use of portable carports and umbrella tents as good protective solution from hail damage. A car umbrella tent is often made with military grade fiberglass with a design that can withstand winds of as much as 30mph. If you want to use this product, you might want to pair this off with some other car protectors because it can leave the sides exposed. The portable carports have better durability and can keep your car protected during light up to medium hailstorms. However, these can also be very expensive just like the inflatable protection systems.
Do car covers protect against hail? Yes, they do but remember that they can only do as much to keep your vehicle safe from damages.
From ther same Category: